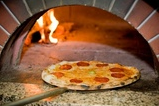 The Crust
Whether you want to make your crust from scratch or buy it from the store (I won't tell if you do), the crust is the foundation of your pizza. If you have the time to make the crust from scratch, they are a lot of easy pizza crust recipes that can be found online. Keep in mind that if you make a homemade crust, you should first bake the crust in the oven for a little while before putting the ingredients on it to prevent your crust from being undercooked and soggy. Use a crust about 1-2 centimeters thick as this way it is not too thick that it will not cook properly, but also not too thin that it will easily burn before all of the delicious ingredients have cooked and the cheese is gooey and golden brown.
The Sauce
Some would say the sauce it what makes or breaks the pizza. Do you have a favorite marinara sauce that you use on your spaghetti? Why not try that as your pizza sauce? Instead of gambling with the pre-made pizza sauces go with something you know is a fan favorite. Marinara sauce will add the perfect amount of flavor to your pizza. For an added kick to the pizza sauce, mix in a teaspoon or two of olive oil and some fresh garlic and apply generously (or sparsely, depending upon your preference). If you are looking for a fresh homemade option, mash up a few tomatoes, add some olive oil, pepper and garlic and generously spread it over your crust.
The Cheese
Though it may seem obvious to choose mozzarella (though adding different types of cheese like cheddar or pepper jack can add an extra zip of flavor), the type of mozzarella cheese is extremely important in creating a homemade pizza masterpiece. If you are looking for a gooey, melt in your mouth cheese I would suggest using fresh mozzarella balls. When using fresh mozzarella instead of shredded mozzarella, it is important to slice up the fresh mozzarella into very small pieces and sprinkle them on the pizza so that there is not an excessive amount of moisture produced from the cheese, which would pool in the middle of your almost perfect pizza. Perfectly baked cheese will be gooey, bubbly and golden brown.
The Toppings
Whether you are a traditionalist who loves your pizza with the perfect amount of pepperoni and sausage, or a more daring risk-taker who desires olives and anchovy pizza, the most important thing to remember when topping off your pizza (pun intended) is to use fresh ingredients whenever possible. Fresh, not frozen ingredients will bake more quickly, taste more fresh and eliminate the production of access liquid on your pizza caused by the un-thawing of frozen ingredients. It is really a no-brainer that the toppings of a pizza are endless. But make sure when cutting up fresh ingredients that you slice them into small pieces so they can easy cook and you don't run into the problem of brown, also burnt cheese with uncooked toppings.
Amanda Maynes is an aspiring writer with a wealth of knowledge in the areas of health and fitness. She enjoys researching and writing about different topics with the aim of benefiting her readers.
To see more of Amanda's writing, check out the following website: http://pizzamenu.com/
Article Source: http://EzineArticles.com/7432353