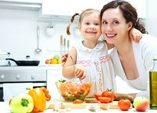 It can be difficult as it is feeding a whole family a healthy meal. However, when the family is split up and the parent is single, this job gets even harder. Being healthy while feeding yourself and cooking for kids might seem like a daunting task, but there are individual tricks, tips and techniques you can use to make the job a lot more manageable.
Keep reading into the following paragraphs for these useful ideas:
Let your kids be a part of the process whenever you can.
This is a great chance to teach them about how to do things in the kitchen, plus learn about nutrition. You let them have chances to make decisions about what to eat. As they get older and more able to pack their own lunches, they learn how to take care of themselves and you have less workload.
Every once in a while, take everyone to the grocery store.
Make food buying a group decision. Kids are more likely to try new fruits and veggies if they get to pick them out themselves and the bright vibrant colors of the produce section may amaze them. What you are really aiming for is only buying groceries that everyone likes to eat. This will save you a lot of cooking and clean up for dishes or sides only a few eat.
Smuggle in any servings of health foods you can.
Never fear swapping out a recipe ingredient for a healthier option, like oil instead of butter or Stevia instead of sugar. Also, pack your kids lunches with little baggies of nuts and servings of fruit.
Clean things as you are still moving.
Never assume that you must trash the kitchen, eat, and then clean it all up. It only takes a second to throw a dirty utensil in the dishwasher or wash a pot or pan while you wait on water to boil. Use your micro-segments of downtime and your kitchen can stay rather spotless throughout the process.
Buy a crock pot or other slow cooker.
Rice cookers are great for prepping certain foods or ingredients for dinner, but a full-sized slow cooker can just have a nice warm meal ready to go when everyone gets home.
Fill your freezer.
You can store a lot of frozen vegetables, and even some fruits. This will give you access to natural produce on a moment's notice.
Only buy your non-perishable items in mass quantities.
These are not going to expire or go out of date anytime soon, so the more you buy, the less you pay per unit.
Start up a dinner circle with a few other friends or neighbors.
If you and another household agree to dinner every Wednesday night, then you only have to cook that night every other week. Cooking for two small families does not take that much more than cooking for one, so in the end, everyone comes out ahead. Potlucks are another great way to mix your social life and good eating in a time-efficient way.
You can save money, time and stress with these ideas, all the while letting everyone eat more healthy. Cooking for kids doesn't have to be a daunting task. Simply try these ideas to see what they can do for you.
Article by Eileen Starbuck. Eileen is the featured author, editor and publisher of EverythingEileen.Com. Enjoy her helpful tips, resources and fun perspective on being a single mom raising two boys.
Article Source: http://EzineArticles.com/7366164