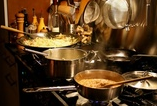 One of our main visions every start of the year is to cook and eat healthy; and one way to keep this goal realistic is to have the basic kitchen items in the kitchen.
A Steamer
Steaming your food is one way to control the amount of oils or fats you get from what you eat. Using a steamer is healthy because it preserves the vitamins and minerals in foods. Steam helps melt some of the excess fats in foods, which end up in the water that was heated to make the steam. The process concentrates the intrinsic flavor and juiciness of foods which not only makes foods taste better, but controls us from using rich sauces or unhealthy condiments to spice them up. A steamer can even cook eggs!
A Blender
With a blender in your kitchen, you can make your own fresh fruit shakes and smoothies. You can throw in a banana, apple and any other raw ingredient you like and blend in seconds. This does not only give you healthy drinks but you can easily have your juices and smoothies whenever you want them. A kitchen blender can deliver nutritious and delicious meals and snacks full of fiber, phytonutrients and antioxidants paving way to a very affordable means of enjoying the most delicious and healthiest drinks the whole family can enjoy.
A Grill Pan
I recommend a grill pan because it is designed with raised ridges that can leave those wonderful grill marks on your food providing an appetizing appearance. What I find more special is the additional unique flavor it can provide from the melted sugars and fats, a thing that cannot be achieved in a standard fry pan or grill. The unique design of a grill pan allows the excess fat to drip down and eliminates smoke and spatter, while at the same time steam-flavoring your foods for amazing results.
It may not be always easy to prepare a healthy meal, especially if you are a very busy mom. But by understanding which kitchen items can help you prepare simple, easy and quick nutritious foods, you can save time and money; and if you plan carefully, a wide range of nutritious food can be presented to the whole family in a variety of different ways. So find any of the kitchen items now and begin the journey to healthiness.
Happy Cooking!
Article Source: http://EzineArticles.com/6822577